The place for a summer holiday in Russbach for hiking in Dachstein West.
Enjoy the mountains, beautiful scenery and nature. The perfect location to explore the surrounding places: hiking in Dachstein West on the alpine pastures, discovering sights in the Salzkammergut or great excursions!
The hiking world Russbach, Dachstein West creates unforgettable experiences. In any case there is something for everyone: there are small walking paths and hiking trails over magnificent summit tours, up to high alpine climbing routes. For this reason, Russbach was awarded the Austrian hiking seal for its special hiking region.
There are many beautiful routes from Russbach for hiking in Dachstein West. Tours include: the Almrundweg, Panorama-Roundweg, visit to the Neualm (the hiking trail starts directly from the hotel) and many more.
In addition to the many hikes in Dachstein West, our hotel in Russbach has a few other summer activities to offer: How about cooling off in one of the many lakes in the Salzkammergut or Salzburg? In addition, our hotel is perfectly located for many summer destinations: experiences for every day are guaranteed!
my home in the mountains!
Hiking around Dachstein West
Russbach – Almenrundweg
Distance: 10.5 km
Walking time: 4 hours
Russbach – Neualm
Distance: 10.6 km
Walking time: 3:15 hours
Schneckenwand circular path
Distance: 8 km
Walking time: 2:30 hours
Hornspitz circular
route Distance: 1 km (from mountain station)
Walking time: 30 minutes
Edtalmhütte via Grenzweg
Distance: 3 km (from mountain station)
Walking time: 1:25 hours
Mountain station Hornbahn – to the hotel
Distance: 4.8 km
Walking time: 1:30 hours
Hinterer Gosausee
Distance: 13.7 km
Walking time: 3:45 hours
Gosaukammum rounding
Distance: 23 km
Walking time: 9 hours
Russbach Panorama
Circuit Distance: 20 km
Walking time: 6 hours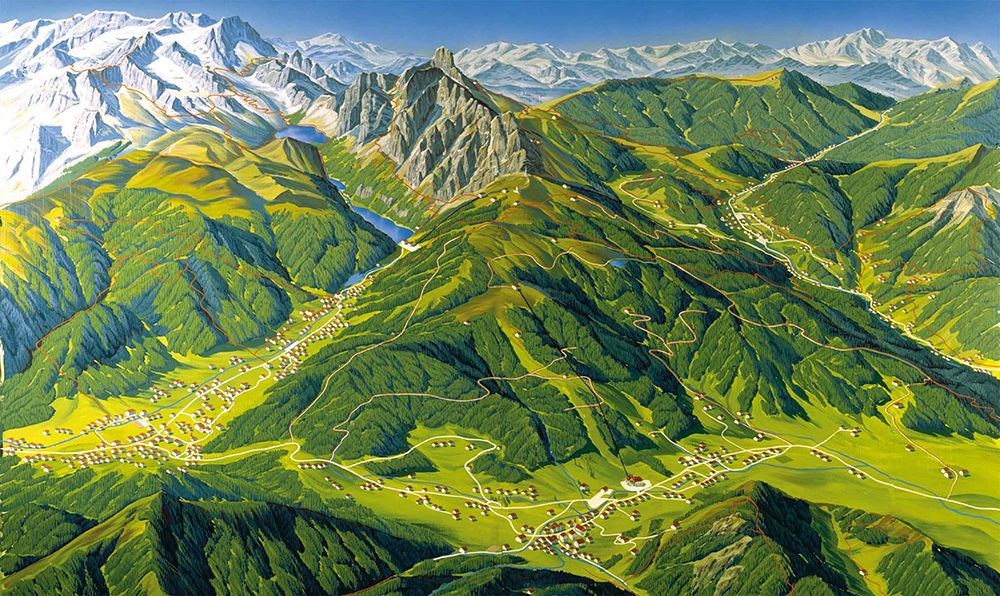 Donnerkogel via ferrata
Length: 1.1 km
Time: 3:30 hours
Däumelkogel Steig
Distance: 6 km
Time: 2:45 hours
Gosausee Laserer Alpin
via ferrata Length: 0.1 km
Time: 1 hour
Climbing route – Dachstein Krippenstein
Length: 2.4 km
Time: 2 hours
Donnerkogel via
ferrata Length: 1.1
Time: 3:30 hours
Intersport via
ferrata with sky ladder
Time: 3 hours
400 meters
Russbach Water Park
13 km
Abtenau Water Park
14 km
Gosausee (Hiking & Swimming)
50 km
Lake Wolfgang (Cycling & Swimming)
30 km
Bathing lake Kuchl
17 km
Lake Hallstättersee (Sightseeing & Swimming)
Cycling/Mountain Biking
Dachstein Round, Golling, Annaberg
Nordic Walking
signposted route network in Russbach
Jogging
Hiking
Hiking trails directly from the hotel
Canyoning
Rafting
Bruno's Mountain World (for children)
Hornbahn Russbach
Climbing
Visit the museum
Free services for your hiking and summer holiday
Free by bus and S-train to the city of Salzburg
1 ascent and descent (per person/stay) with the Hornbahn in Russbach OR with the Donnerkogelbahn in Annaberg free of charge (minimum stay of 2 nights required)
Free entrance to the water park about 350 meters from the hotel
Discounts at many Tennengau excursion destinations
Book now!
Book your favorite room with best price guarantee online right now!